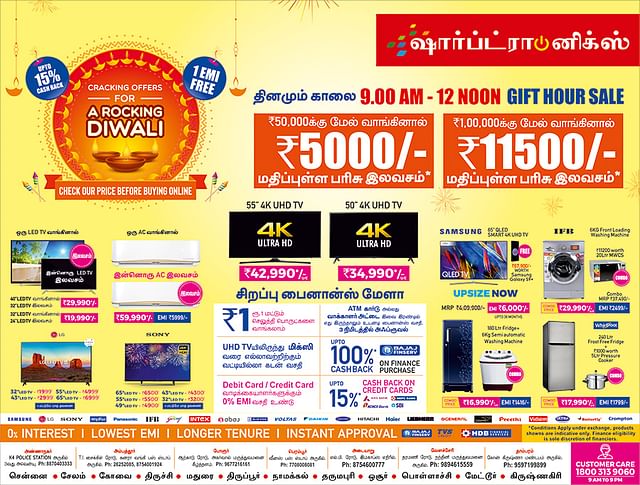 Deepavali Super Sales at Sharptroncis
As we enter the mall during the festive season, we are attracted by the wide variety of offers that are put in place. Of those offers, it can be confusing to select the best one. To that extent sellers will compete to sell their products.
If you buy one, the other is free, and many stores offer discounts and exchanges. That's right .. the offer is important. But, are the products you buy through the offer quality? Do you buy substandard items and store them at home that no offer is important? Despite the offer, it is important to look at the quality of the product. 
Our talent lies in going to the shops that offer the right offer for quality products. Super ... 'Sharptronics' has been operating as a trusted company in both duper offers and quality products. Sharptronics is currently offering a mix of Diwali specials. 
For this Deepavali, Sharptronics offers a stunning offer to completely replace old items in your home and decorate with brand new items . With Sharptronics' rocking Diwali offer called 'Smart Home', you can take home all the items including TV, Fridge, Washing Machine, Mixer, Grinder, Oven, AC, Gas Stove, Induction Stove, Water Heater. For this, EMI facility is provided by Sharptronics.
Apart from this, if you buy a 40-inch LED TV worth Rs 29,990, the 32-inch LED TV is provided for free. Also, if you buy an AC worth Rs 59,990, another AC is free. You can also get AC for Rs. 5999 EMI per month. 
Sharptronics has announced the biggest mega offer of all . Prizes worth Rs.5000 for items purchased above Rs.50,000; Sharptronics also offers a free gift of Rs 11,500 for over one lakh purchases. This offer is only for purchasers of goods between 9 am and 12 noon till 11th (11/11/2018).
In Tamil Nadu, Chennai - Anna Nagar, Velachery, Ambattur, Tambaram, Adyar, Perambur & Porur; Sharptronics has 22 branches in Salem, Dharmapuri, Hosur, Madurai, Trichy, Coimbatore, Pollachi, Tiruppur, Namakkal, Krishnagiri and Mettur. Celebrate Deepavali with Sharptronics' mix of offers!